Expanding Accessibility…
with new ways to serve those in need
In 2013, Macy Huff was paralyzed from the waste down during a tumbling accident while preparing for cheer-leading tryouts. "I remember falling and landing and then I was just laying there", Huff said.
The accident is a permanent fixture in her mind; not as a memory of sadness and regret, but one of how her new life was formed.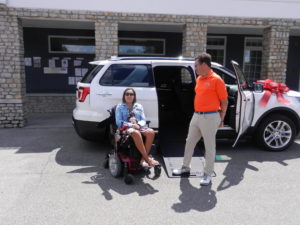 "I knew my mind was going to have to be moving forward and not just looking back on past dreams I had; but instead it had to be dreaming about the future"
Huff is considered a C5-6 quadriplegic. Her injuries are more complex than you might think, when you first meet the energetic and spunky woman today. It's more than just issues of not being able to walk or move her legs. Everything has to be closely monitored; from her temperature, to the movement in her hands. Her injuries are so severe that she even has difficulty moving her fingers.
They also prevent her from doing some of the things she used to do with her friends. Around Halloween, for example, she can't go to the normal haunted houses and if she decides to go to the movies or the mall, she must make sure that the areas are handicap accessible. Although doing normal things with friends is difficult and requires more planning, she's thankful for the support of her friends and family. Those are the people helping her find the mental and physical strength to push on.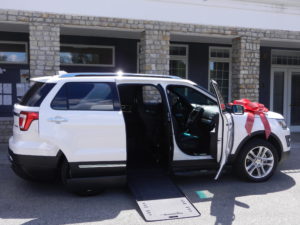 In an effort to enhance Macy's abilities and help her turn her internal strength into external action, Samantha's House & Van was happy to donate a new handicap accessible van at our 2017 golf outing. Through the generous donations of countless individuals, Macy's van is going to allow her greater freedom and flexibility as she transitions from being a high school student to attending school at Franklin College; where she again plans to join the cheer-leading squad.
Please contribute what you can, so that strong leaders, like Macy, can show the world what determination and perseverance can do.