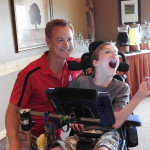 Expanding Accessibility…
with new ways to serve those in need
Luke was supposedly born healthy. But at 18 hours old, Luke's nurse noticed his breathing was labored. She also noticed bluing around the nose and mouth areas. Immediately, and unknown to us at the time, Luke was taken to the Neonatal Intensive Care Unit. His parents were informed that Luke may be suffering from a severe infection. Two weeks went by and Luke was still in a life-threatening condition.
Many physicians, and newboard specialists, performed multiple tests on Luke, but could not determine what was wrong. During this entire time, his internal organs were failing, he was on a ventilator, and he was swelling by retaining the fluids being pumped in, since his kidneys weren't functioning properly.
Finally, at 14 days old, Luke was diagnosed with a heart condition called a coarctation (a narrowing of the artery that supplies the heart with blood). Immediately, he was taken by ambulance to Riley Children's Hospital where heart surgery would be performed the very next day. Almost instantly, Luke's condition began to improve. His organs began to recover and function at somewhat normal levels, although he did fail his newborn hearing test. Luke didn't have the natural instinct to suck from a bottle so his parents began feeding him through a nasogastric tube.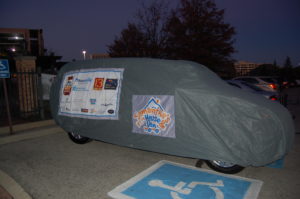 Within just a month or so of bringing Luke home, it was quickly discovered that Luke would have ongoing problems for the rest of his life. At about 18 months old, Luke was diagnoed with quad athetoid cerebral palsy; all his limbs are affected. Luke doesn't walk, talk, or eat by mouth.
Currently, Luke uses the following pieces of equipment on a daily basis: custom wheelchair, orthotic braces for his legs, custom chair for his g-tube feedings, standing device, feeding pump, custom bed, bathing seat, iPad, and a Dynavox computer for communication.
Obviously, with all of the challenges that come with the above medical needs, one thing that is critical for him is transportation. It is critical for him to go to doctor appointments, weekly therapy sessions and just as important to just get out and attend baseball games and/or family reunions.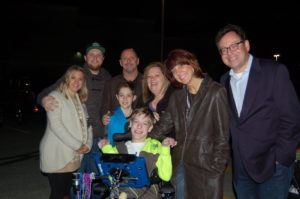 Because of financial circumstances and the high cost of a handicap-accessible van, Luke's mother, who is raising another son on her own has struggled to provide the safe and reliable transportation that is required.
Through Samantha's House and Van, and the support of many generous donors, Luke received his handicap-accessible van. Now Luke is safe and secure in his new custom van and can communicate during trips using his computer.
A host of family, friends and supporters came together on November 13th, 2015 to celebrate the Van reveal for Luke Borszem. Please continue to donate, so that more deserving individuals like Luke will have their needs met.